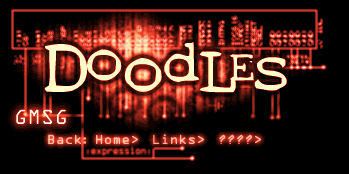 Here are a few of my drawings please stay tuned this page will be updated regularly, when I decide to draw something.

Doodles:
Blind.
Blind Exposed.
Crazy.
Gutt.
Monster.
Perspective.
Puppet.
Brother.
Craze.
Emotional.
Big Fat Ass Cupid.
Angry.
Jont.
High.
Link.
Trapped.
Timid.
Mer.
Fingers.
Mike.
Mr. Finger.
Eyes Ears Mouth.
Dick Head.
Wheel Ass.
Mushroom Bob.
Faces.
Mr. Smilieface.
Angry Face.
La vie de la mort.
Lower.
Arms.
Dummy.
Squigle.
Devil.
In-N-ouT.
Speak.
Peter.
Smear.
Blotch.
Mean Kid.
My Hand.
Safe.
Parent.
Scissors.
Creepers.
Spermies.
Rrip.
Suck Puppet.
Objects.
Peek-a-Boo.
Open Too.
Hot Dog.
Kissy Twins.

GMSG Media:
Feeling Shitty as Fuck.
Use this as a tile on your computer wallpaper. It's fucking great!
Fetus.
Center this as your computer wallpaper, it's just a bit disturbing

Cartoonies:
Phone E.T.
(Sorry for the overall crappyness... Pleas don't sue me it's just a joke.)
Cute Little Bunny.
Stars
No One Expects the Butterfly.
A Touching Valinitine (DUH)
For all you lovers out there... I could get you laid.